Dental Implants – Pewaukee, WI
The Roots of a Long-Lasting Smile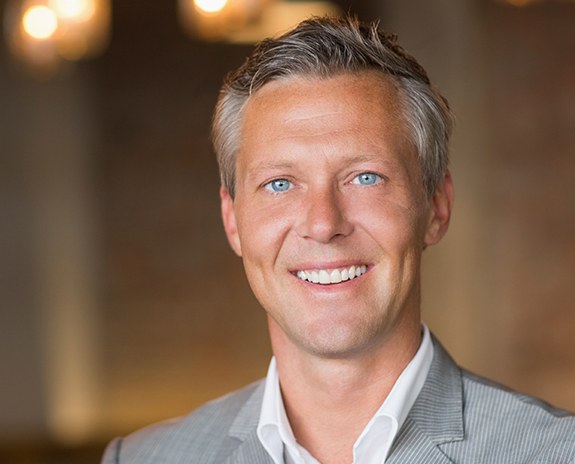 Dentistry has come a long way. In the old days, only the crown of a tooth (the part that you use to chew) could be replaced; the root that connected it to the jawbone was gone for good. But today, crowns, bridges, and even full dentures can use dental implants as artificial roots that anchor your teeth in place and keep the jaw healthy. Are you a candidate for implants? Get in touch with Ostrand Family Dentistry today to schedule a consultation with Dr. Ostrand and find out more about replacing missing teeth with dental implants in Pewaukee, WI.
Why Choose Ostrand Family Dentistry
for Dental Implants?
Dentist Who Works Closely with Local Specialists
Dazzling Restorations
High Availability
What is a Dental Implant?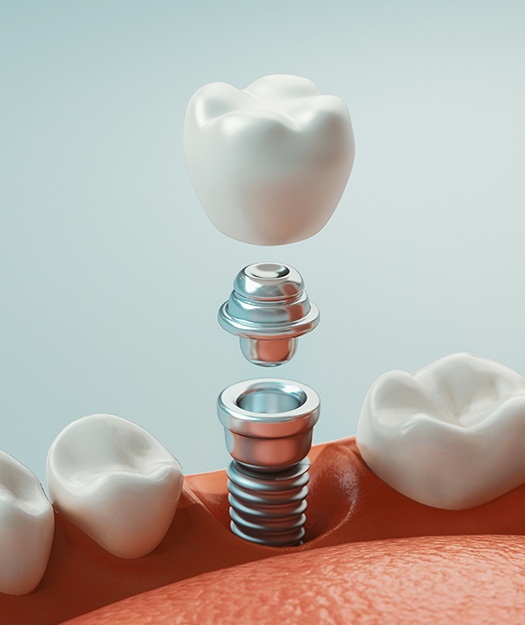 By itself, a dental implant – a small post normally made from titanium – may not look much like a replacement tooth. But once it has been surgically inserted into the jaw and has joined with the bone through a process called osseointegration, it can provide support and stability to a prosthetic tooth or teeth. Depending on how many teeth are missing, you might need to get multiple dental implants in strategic areas during your procedure.
How Dental Implants Work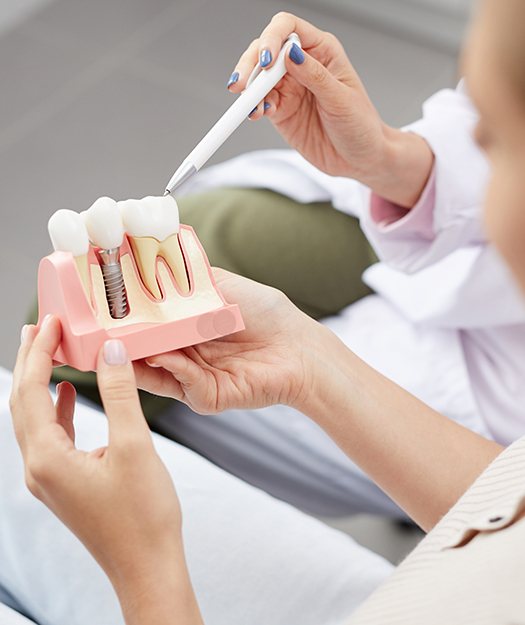 The dental implant process can essentially be divided into two steps: the surgery to place the implant itself and the restoration phase. For the surgery, we'll refer you to a local specialist who has plenty of experience performing the procedure. This minimizes the risks and helps ensure that everything goes as smoothly as possible. After your mouth has healed, you can return to our dental office so that we can get started designing the crown, bridge, or denture that your implants are meant to support.
Benefits of Dental Implants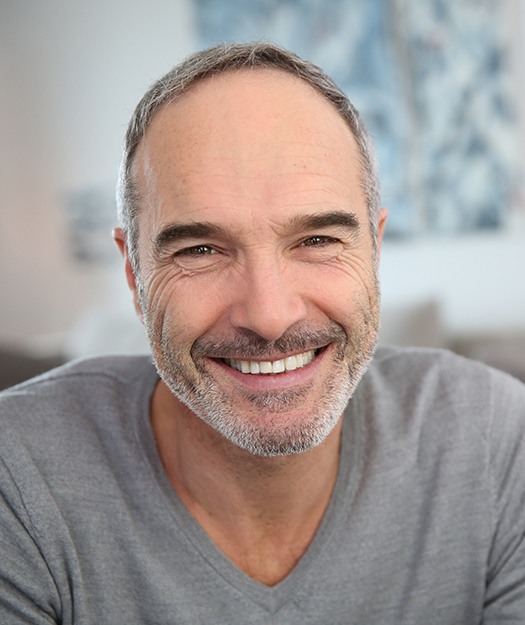 When comparing dental implants to more traditional tooth replacements (i.e., dentures, dental bridges), the advantages of permanent prosthetics prove superior. From improved functionality when eating and speaking to increased longevity and a more natural-looking appearance, the benefits of dental implants in Pewaukee cannot be overlooked. More than 3 million Americans are currently experiencing these benefits, which is why our team at Ostrand Family Dentistry wants to help you achieve the same great results. Below are just a few of the many unique advantages you can expect with dental implants. If you have any questions, we invite you to contact our office.
Day-to-Day Benefits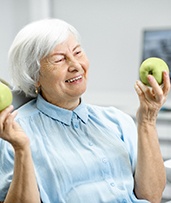 Natural Function: Your new teeth will feel like your natural ones, and you'll be able to eat all your favorite foods again because of your increased bite function and chewing power.
Improved Appearance: Your crown, bridge, or denture will be designed to match your natural teeth, and no one will see the implant post hidden beneath the gums.
Easy Maintenance: Brushing and flossing are easy with implants because they act like natural teeth. This allows you to maintain greater oral health and avoid the risk of gum disease and tooth decay for your natural teeth.
Improved Lifestyle: Instead of staying at home and avoiding social gatherings like many denture-wearers feel they need to do, you can embrace a better quality of life with dental implants.
Health Benefits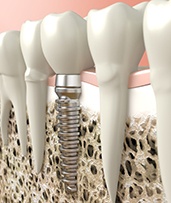 Preserve Your Natural Teeth: Before you get a dental bridge, the teeth adjacent to the gap need to be permanently altered. However, this step isn't necessary when the bridge is attached to implant posts.
Healthier Jaw: Dental implants in Pewaukee stimulate your jawbone so that it doesn't lose its density over time. This way, it can continue to provide adequate support for your teeth and facial muscles.
Healthy Teeth Remain in Place: When tooth loss occurs, your natural teeth will try to shift to cover the gap. With implants, you can ensure your healthy teeth stay in place and avoid shifting out of alignment.
Improved Health: Tooth loss can lead to the development of many systemic issues (i.e., diabetes, osteoporosis, heart disease, etc.); however, with implants, you can reduce your risk.
Long-Term Benefits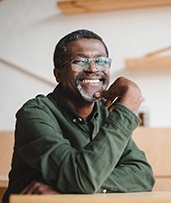 A Safe Option: With a 95% success rate, dental implant placement is considered a highly reliable procedure when placed by a trusted implant dentist in Pewaukee.
Durability: Implant posts last much longer than other kinds of restorations. In fact, if you take good care of them, they can potentially last the rest of your life.
Ability to Save Money: Dental implants may be costlier upfront; however, in the long run, you'll actually save money. You won't need to buy special cleaning supplies or denture adhesives, and you won't need to pay for regular adjustments or replacements.
Are Dental Implants Right for You?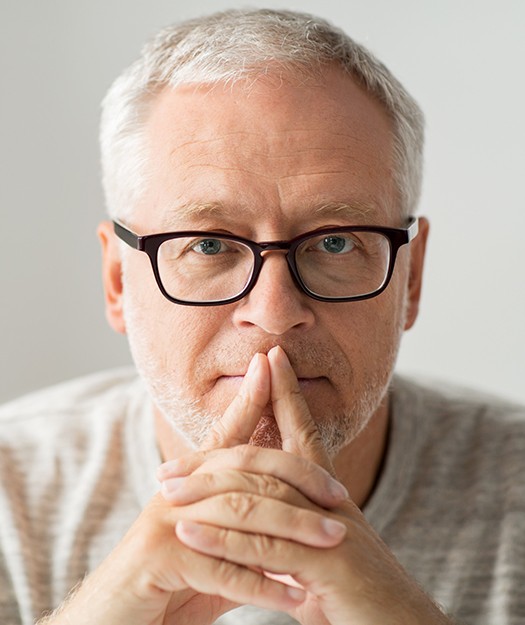 Dr. Ostrand will need to check the density of your jawbone to confirm that implant surgery can be performed successfully; she'll also make sure your gums aren't suffering from an infection that could complicate the process. Once that's done, the rest of the process depends on the number of teeth that need to be replaced.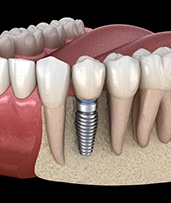 Missing Single Tooth
A dental implant will be carefully placed in the gap and left for 3 to 6 months so that it can fuse with the bone. Once it has, you'll be ready to receive a customized crown shaped and shaded to look as natural as possible next to your other teeth.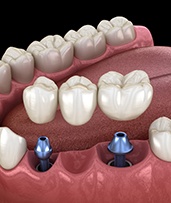 Missing Multiple Teeth
Did you know that two implants could be all it takes to replace three or more missing teeth in a row? The posts can support two crowns that hold one or more artificial teeth between them. Using implants means that no enamel has to be removed from remaining natural teeth.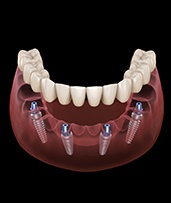 Missing All Teeth
As life-changing as full dentures can be, sooner or later they may not fit as well as they used to, and they could start to move at awkward moments. That's why, when possible, it is often recommended to have dentures anchored to four or more dental implant posts.
Understanding the Cost of Dental Implants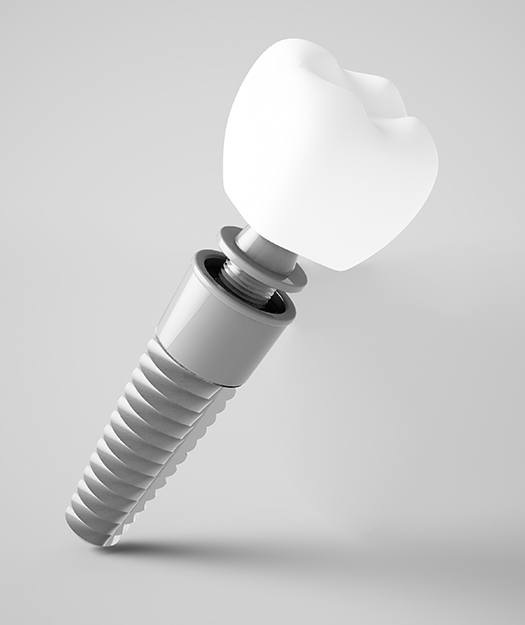 Some patients are a bit apprehensive about the price of dental implants. Bear in mind that while the initial procedure will cost more than other types of tooth replacement, getting implants is essentially an investment that will last for decades. Over the long term, you'll save money because you won't need to have the implants replaced every few years, unlike traditional bridges and dentures.
The exact cost of your implants – which varies depending on the number of posts needed and other factors – is hard to estimate without a thorough examination. Set up an appointment with us today so that we can start narrowing down the price for you! In the meantime, read on as we cover some of the most important information about the cost of dental implants in Pewaukee.
Preliminary Treatments & Dental Implant Surgery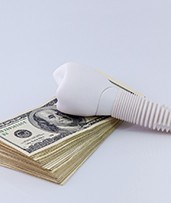 Before you begin your dental implant treatment, you may need to have one or more preliminary procedures created. For instance, many patients need gum disease therapy or a bone graft beforehand to become candidates for dental implants. While these extra procedures will add time and cost to your dental implant treatment, they'll ensure that it's as successful as possible. Your dental implant surgery will also incur its own fee. When you meet the local specialist we've partnered with to place your dental implants, they will review the costs associated with the surgery.
The Parts of Your Dental Implant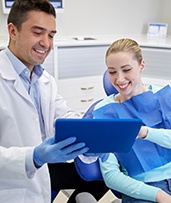 Next, we need to factor in information about the dental implant itself, such as:
Number of dental implants: The final price will go up the more dental implants you need, but their individual costs will typically go down.
Type of restoration: Dental implants can support crowns, bridges, partials, and full dentures, each of which will come at their own price point.
Size or material: Depending on your specific needs, your dental implant may be made of titanium or zirconia, or it may be made longer, shorter, thinner, or wider. These will all influence the final cost of the dental implant.
Brand of dental implant: There are several companies that produce dental implants, but we only work with trusted brands that have a long-standing reputation for reliable, high-quality dental implants.
How Dental Implants Pay for Themselves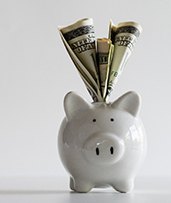 While dental implants will initially cost you more than alternative options such as a dental bridge or denture, they will almost certainly pay for themselves with time. Firstly, while dentures and dental bridges need to be replaced every five to seven years, dental implants have the potential to last a lifetime! This can save you thousands of dollars in replacements alone. Plus, dental implants help prevent future tooth loss, lower your oral healthcare costs, and can help you avoid more costly treatments in the future. In most cases, dental implants are the more cost-effective option in the long-run.
Does My Dental Insurance Cover Dental Implants?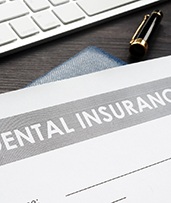 Currently, most dental insurance companies do not cover dental implants, thought that has slowly been changing. Our knowledgeable team will be happy to review the details of your plan to help you better understand your coverage. However, even if your policy does not cover dental implants, it is very likely to cover parts of it, such as the consultation, use of sedation during placement, and the restoration. We'll always make sure that your benefits are being maximized and your out-of-pocket expenses are being minimized.
Making Dental Implants Affordable
If you are uninsured, we can still help you make your dental implants affordable. Dr. Ostrand is proud to offer the Kleer® Dental Membership Plan through our office. For a flat annual fee, which can be paid in easy monthly payments, you can get all the preventive care you need each year as well as 20% off other treatments, including dental implant services. To learn more or apply today, contact us today or visit our website.
Maintaining & Caring for Your Dental Implant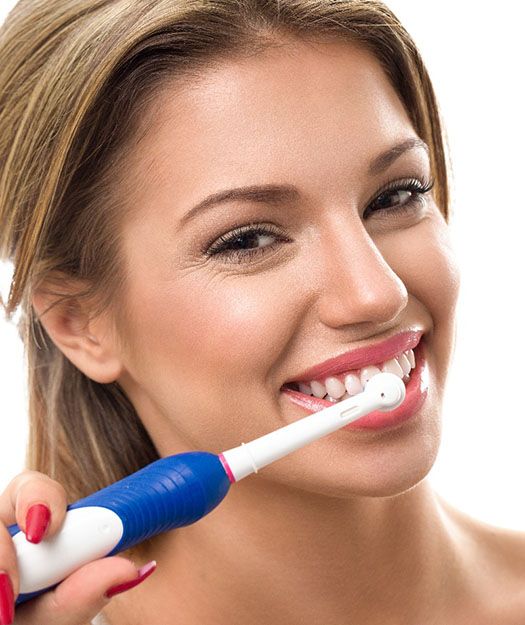 Dental implants are designed to last for decades. In fact, they can easily keep your smile complete, strong, and healthy for an entire lifetime! That is, of course, as long as you take good care of them. While dental implants aren't vulnerable to decay and boast an astonishing success rate of over 98%, how long they last will ultimately depend on properly caring for them. Thankfully, it's easy to maintain and care for dental implants! Here are some of the most important things to keep in mind after rebuilding your smile.
Make Oral Hygiene a Priority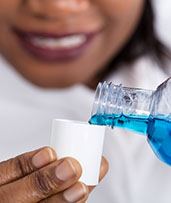 Just because your dental implant(s) can't get cavities doesn't mean you can slack off on your oral hygiene. A buildup of plaque and bacteria in your mouth can infect the gums and attack the connective tissues that help hold your dental implant in place, which could eventually cause it to fail. Keep your dental implant and the rest of your smile healthy by:
Brushing for a full two minutes twice a day
Flossing between all your teeth daily
Rinsing with an antibacterial mouthwash regularly.
Eat a Healthy Diet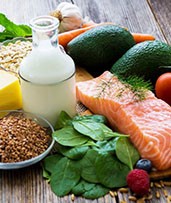 Dental implants can help you regain 75% or more of your natural biting force, so feel free to eat a full, nutritious diet of all your favorite foods! However, you should monitor and limit your intake of particularly hard foods and sugary treats. Overindulging in these items could crack your restoration or cause gum disease, which in turn can lead to dental implant failure. Instead, eat plenty of foods that contain calcium, phosphorus, vitamin C, and fiber to keep your smile strong.
Break Bad Habits
Getting dental implants is an excellent opportunity to break some bad habits that could cause them to fail, such as:
Smoking or chewing tobacco: Tobacco products slow down your body's natural healing process, which could prevent the dental implant from properly fusing with your jawbone. The dental implant success rate is much lower for smokers than non-smokers, so now is the perfect time to quit!
Chewing on hard objects: Just like with your natural teeth, chewing on hard objects like ice, pen caps, or your fingernails could chip or break the restoration that your dental implant supports. Try chewing sugarless gum instead!
Using your teeth as tools: Using your teeth to open packages, bottles, or bags may seem convenient, but it could all too easily leave you with a cracked or loosened dental implant. Keep the right tools handy so you don't jeopardize your dental implant.
Protect Your Dental Implants
Dental implants are reliably strong and durable, but they're not indestructible. A sudden blow to the face, perhaps from a ball or teammate, could damage or loosen your dental implant. Similarly, the prolonged excess pressure caused by nightly teeth grinding (a condition called bruxism) can wear away at your dental implant and loosen it as well. If you play sports or have bruxism, talk to us about a custom-made mouthguard or nightguard to keep your dental implant safe.
Schedule Regular Dental Checkups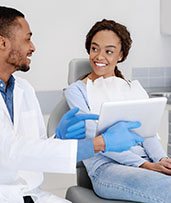 No matter how many teeth you've replaced with dental implants, even if you don't have any natural teeth at all, you still need to visit us regularly for checkups. We'll clean your dental implant along with the rest of your smile and make sure that it's staying firmly in place. If we detect any warning signs of an issue or infection, we can take action against it right away to make sure your newly rebuild smile continues to last.
Dental Implant FAQs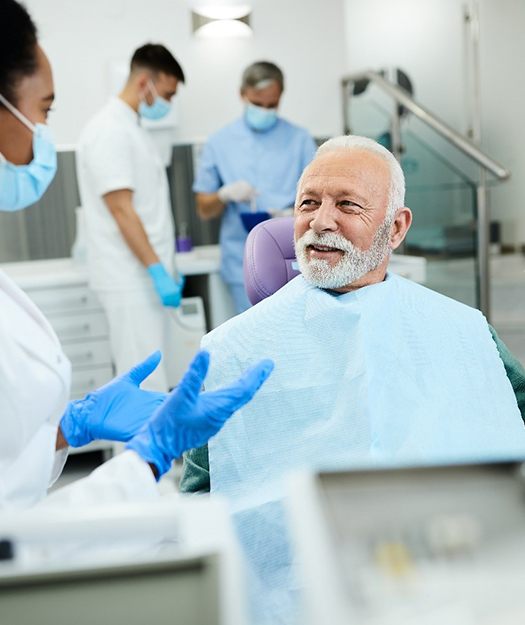 If you suffer from extensive tooth loss, you may be thinking about rebuilding your smile with dental implants in Pewaukee. You can review the information above to determine whether this method of tooth replacement is right for you. However, it's completely normal to have a few concerns about the process before committing to it. To help you, our team at Ostrand Family Dentistry has decided to answer some frequently asked questions from patients.
How Long Do Dental Implants Last?
Dental implants are one of the most permanent solutions for missing teeth, capable of lasting well over 30 years. Of course, their exact lifespan depends heavily on your oral health and lifestyle. You can help your upgraded smile's durability by brushing twice a day along with daily flossing and rinsing with an ADA-approved mouthwash. Make sure you visit Dr. Ostrand every six months for a checkup and cleaning as well!
Does Getting Dental Implants Hurt?
Before the procedure begins, we will numb your mouth with a local anesthetic to ensure you're completely comfortable. You'll also most likely be sedated during your surgery which means your body's ability to register pain will be much lower. For the first few days following dental implant placement, your mouth may feel sore and irritated. Fortunately, you can easily manage your discomfort by taking over-the-counter pain medication and using cold compresses.
How Long Does It Take to Recover from Dental Implant Surgery?
Most patients can return to their usual activities the day after surgery. However, it's incredibly important you avoid strenuous exercise for the first 1-2 weeks as it can hinder the healing process. Although you can expect some bleeding and swelling after your procedure, it should stop within 3-4 days. While you recover, make sure you take your prescribed or over-the-counter pain medication as directed. It's worth noting you may need up to six months for the implants to fuse with your jawbone via osseointegration.
Will People Be Able to Tell That I Have Dental Implants?
Your restorations are going to be personalized for your smile because your implant dentist in Pewaukee takes impressions of your mouth to create them. Once they are placed, people shouldn't be able to tell the difference between them and your natural teeth. The implants are secured in your jaw like tooth roots, so you won't need to hold your jaw in an awkward way to keep them in place as you might with poorly fitting dentures. The combination of natural appearance and secure fit is unmatched!